Book Reviews
"Community: The Structure of Belonging"
By Peter Block
Peter Block is an internationally recognized author, consultant, and speaker in community building, organizational management, and civic engagement.  In Community: The Structure of Belonging, Block teaches ordinary citizens how to become convening leaders, and how to gather diverse populations, together, to talk about important issues. It is at the community conversation that an alternative future is co-created by all those who are in attendance.
For Block, community transformation happens when a small group of people convene on an issue, in an atmosphere that supports the opportunity for all group members to have a voice and an opportunity to co-create their environment and the alternative future that they envision–whether this relates to smaller-scale issues at work, or larger community issues. In larger gatherings, people may be divided into subgroups to help create a more intimate environment. The convening leader helps community conversations come alive with the usage of Block's 6 conversations: the invitation, possibilities, ownership, dissent, commitment, and gifts. These conversations create a restorative community because they shift the context from a retributive society, based on problems, fear and fault, to a space of relatedness, accountability, gifts and generosity.
Questions, in these conversations, are more important than answers because they confront us with our own freedom to take responsibility for our world. Problems are reframed as possibilities, citizens' dissent is seen as valuable, space is opened so that citizens can take ownership of their reality, make a commitment to take action, and have their gifts acknowledged.
This book will teach you the skills you need to become a convening leader,  create a context for a quality of aliveness, and allow for the emergence of new possibilities and a future distinct from the past–without the need for experts, agendas, blue prints, or a prediction for the future. For Block, allowing an expert to try and predict the future (with plans and blueprints) can only ensure that our future will look exactly the same as our past, reducing citizen engagement, and stifling our creativity in the present. A must read for anyone interested in civic engagement and building the social fabric of communities.
Review by Lauren
"What Makes A Baby"
By Cory Silverburg
Website: http://www.what-makes-a-baby.com/
What Makes a Baby is a bright and interactive book that answers the question every child  inevitably asks; "Where did I come from?" and does so in a way that works not just for the typical nuclear family with one mom and one dad but for families of all types. Silverberg explains what is needed to make a baby, and egg and a sperm, without assigning genders to either thus allowing trans parents to easily explain thing to their children without having to misgender themselves. The book also covers things like c-section, and that not all babies are born in hospitals with doctors. For families who aren't included in the regular fare of books this is a great resource as in many cases books which assign a gender to the bodies which differs from what a child sees in their caregivers will inevitable cause more confusion for the child and frustration for whoever is trying to explain things to them. Along with the information present in the book there are question such as "Who was waiting for you?" which make it easy for adults to open conversation with children about their families and encourage kids to feel included in the story. Overall This book is a great resource for anyone caring for small children.
Reviewed by George
 " I am Jazz"
by Jessica Herthel & Jazz Jennings
This is an autobiographical story of a transgendered child named Jazz. Jazz was physically born a boy, but she and her parents struggled with this, as she seemed much mor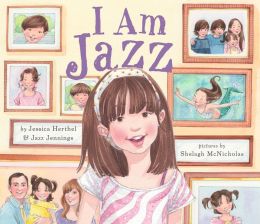 e like a girl. She loved pink, drawing, soccer and dressing up as a mermaid in the pool. Finally, the confusion was solved when her doctor explained that she was transgendered. From then on her parents understood her better and supported her dressing and behaving as a girl both in public and private. Jazz discusses how she dealt with some of the difficulties she faced such as having to convince the school to let her use the girl's bathroom and play on her preferred soccer team.(IE. Girls) In her own words, she explains; "I have a girl brain but a boy body." The book is beautifully illustrated with colorful watercolors done by Shelagh McNicholas. By looking at the ways that Jazz copes, her story may helpful to some children who sometimes feel like they are different. Unfortunately, on the down side, it might seem to assume a rigid male/female binary is typical in all transgendered children. But this was Jazz's true to life story and would be a great place to start in explaining what transgendered means, to children.
Reviewed by Sue
---
Magazine Reviews
Shameless
website: http://shamelessmag.com/
Shameless is an independent Canadian magazine which is targeted towards younger women and and  trans youth.  It is filled with engaging  articles about culture, art and current affairs. Coming from a platform of social justice and anti-oppression, it covers a variety of topics from: food politics, health and sexuality, and the latest technologies.
As a volunteer-driven magazine with no big corporate sponsor, Shameless has the freedom to create a space to empower youth to think critically and be creative .  It is an alternative to many women's magazines which encourage the rigid binary and the heterosexual norm.
I particularly enjoyed the "Fashion Issue"  (Summer 2014), which is geared towards those of us who do not fit into,(or choose not to)  and buy into dressing as close to the "ideal" as possible.  The best part is that there were no articles on dieting!  The one article on the health disrupted the myths of superfoods, and how they are usually  promoted as foods to make you beautiful, rather than healthy. This issue is refreshing in that it challenges the notion that clothes do not have to be what defines us, and we can do this by defining our own bodies from the inside out. There are no distracting glossy, cropped pictures of what women should look like, rather  images of a multitude of good role models of women who are courageous enough to be themselves.  This magazine comes out four times a year and is reasonably priced at $6.95 a copy.
Reviewed by Sue
Broken Pencil
website: http://www.brokenpencil.com/
Broken Pencil  is a one of a kind Canadian magazine which is totally all about zines. A zine is defined as a self-published kind of booklet which is assembled in no particular style.  It can be created on the computer or by hand with cut-out images or drawings, and the master copy can be photocopied to be shared or sold. Broken Pencil magazine reviews hundreds of styles of zines, which are always one of a kind. Broken pencil also hosts an array of original new fiction often based on a variety of alternative cultures.
Zines, of one sort or another have been around for a long time, but have become very popular as they have very few guidelines to follow and can be done by anyone.
The Gender Issues Centre has a zine library. We always have supplies on hand for making zines, postcards, collages – a variety of papers, pens, and other craft materials. We have old magazines for cutting and pasting. National geographic is great to use for zines,  with its striking images. Zines are a lot of fun to make and serve a variety of purposes: entertainment, promotion, knowledge sharing, education, self-expression.  This magazine retails for $5.95 a copy and is published eight times a year.
Reviewed by Sue
Bitch
website: https://www.bitchmedia.org/
Bitch magazine had its zine-like beginning in the nineties with a feminist focus on popular culture. A quarterly publication with the tagline: "A feminist response to pop culture", the magazine includes an analysis of political events, social and cultural trends, television shows, movies, books, music, advertising, and artwork. Bitch's mission is to provide and encourage an engaged, thoughtful feminist response to mainstream media and popular culture.
I love the way this magazine encourages us to think critically from a feminist viewpoint to where we are and should be going. The Tough Issues, Summer 14, No. 63 article," Words To Live By "  questions  why we tend to report on only the "hopeful" side of cancer. Sara Black McCulloch points out that we are too uncomfortable, to look at the often painful, desperate, and life-threatening struggles that many women have to face. She talks about Angelina Jolie who publicly announced her double mastectomy, which she had, proactively, to increase her survival odds. She notes, however,  that Jolie, herself, stressed that many women are not in a position financially to afford that option.
Bitch is an independently produced magazine, and, remains free of corporate sponsors. It has so far been able to provide stimulating material , (ie. Some written by male feminists), with third wave leanings. Bitch magazine is published quarterly at a cost of $7.50 per issue.
Reviewed by Sue
This Magazine

website: http://this.org/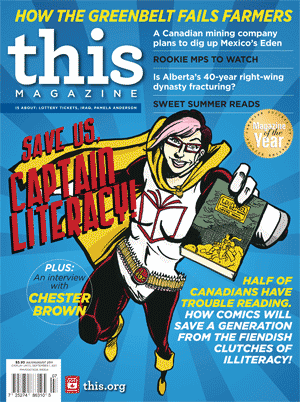 This magazine is a long-running independently published journal that focuses on Canadian politics, pop culture and the arts.  This magazine is noted for combining commentary and investigative reporting with in-depth arts analysis. It is known for introducing early works of many well-known Canadian writers, artists and critics, such as Margaret Atwood and Michael Ondaatje.
It is full of subversive, edgy and witty reading material and I especially enjoyed the first-ever Summer Reading Issue, July/August 2014. Readers were given the option of doing reviews on the material and some of these comments are published along with the stories. Guidelines are available for readers to submit reading material on the website. The magazine is published six times a year by Red Maple Council, a registered charity and also from financial support from Canadian Council of Arts and the Ontario Arts Council. The magazine comes out six times a year at a cost of $5.65.
Reviewed by Sue
---
DVD Reviews
Coming Out Again:
Lesbians Speaking Out About Cancer
The Canadian Cancer Society put out a DVD about the lived experiences of 26 lesbians who had, or still were living with cancer. The film documents a staged reading of quotes which evolved from a "women with cancer" research study, where the women talked about their experiences of having breast or gynecological cancer and being lesbian. The consensus of the the women seemed to be that it was hard enough to be diagnosed with cancer and then have to be fearful of having to "come out" all over again with the medical community, and with family and friends. One of women stated that she was really upset with her Doctor, who said that he told her she could have breast implants so that she would feel comfortable having sex with her husband again. The thing was, that he knew she was a lesbian, and she was horrified that he could so easily "forget who she was", and be so insensitive. Some of the women talked about problems with the hospitals refusing to talk to their partners and only letting in biological family members. Only one woman in the film talked about how great it felt when the Doctor spoke directly to her partner, first. Cancer can be such an invasive and disempowering disease – one women talked about her experience with her very debilitating disease – she said it was very difficult to cope with, as a 'confident, butchy, dyke woman, falling down and wobbling all over the place".
It was awesome, however, that these women could get together and make this film. They wanted to make it easier for others who have to go through this, but it was obvious how empowering it was for the women in the film. This was so important, as they did not feel comfortable going to "women only" support groups, where they would be at risk of having to "come out" over and over again. Their partners, of course, also stated that they would not be willing to go to an all-male partner support group, either.
Overall, the women said that the health care system just assumes that you are heterosexual. One of the women said that she felt if she was heterosexual, people would have been willing to touch her more. This DVD is a valuable and hard to find resource available only at the Gender Issues Centre. The Cancer Society doesn't have any more copies left. Their website only refers people wanting information on this topic to go to the Rainbow health website, which may be able to direct you to an LGBT friendly health practitioner. We need to keep working on breaking down barriers to make all healthcare wholly accessible to LGBTTTIQ people – cancer is difficult enough, and can be a very long and hard road for someone to travel, without being subject to a homophobic experience, and having to "shut down" instead of getting the support they so much deserve.
Lillian, one of these women who were interview, said that telling other people that you have cancer is "like coming out again".
-Review by Sue
Walk a Mile
This film was made in Thunder Bay with the purpose of improving race relations between Aboriginal and non-Aboriginal people in Thunder Bay. It is designed to educate and encourage conversations about the reality of the life and history of Aboriginal peoples both here and across Canada. The five documentaries, which are the creation of award winning film maker Michelle Derosier, are each about 10-15 minutes long. Derosier approached about 40 individuals from Thunder Bay and Fort William First Nations of various ages and backgrounds, to address issues such as treaties, racism, on-going violence against aboriginal women, and the way to go forward.
In particular, this film series is meant to encourage discussions on diversity and relationship-building, in a way that will encourage people, no matter where they come from, to fully understand historical Aboriginal and community issues in a welcoming and respectful context. Using the native tradition of storytelling, the film highlights some of the ongoing genocide of their people. There are documented reports of there being a much larger aboriginal population at one time. They have fought ongoing attempts to 'make them go away'. One such heartbreaking and little known face is that of the colonizers handing out blankets covered in smallpox germs to the natives. Treaties were signed, which were supposed to benefit everyone, but there are huge legal battles going on, for native people to make sure these are still validated. Some people complain that they never said we would pay for their university education. But one native woman responded with the comment, that "well, they never told us that they would be building nuclear power plants on the lands, either!'
The horror of the residential stories was seen through stories and photographs, of those and their families, who were and still are affected. Many of the students went "missing" at these schools, and it is known now that many were abused and even killed, during this ongoing cultural appropriation. Of the 150,000 young people forced to attend, there are approximately 4,100 deaths attributed to this process. Also, there are no high schools on the reserves, which means an often difficult adjustment period for those have to come to cities for the first time – there have been several suicides of young native people in Thunder Bay, which may be connected to struggling through this difficult time.
One of the most difficult parts of the film to watch was about Sharon Johnson, who lost her sister, Sandra, on February 13, 1992, one of the 824 missing and murdered women. Over the last twenty years, many of these, who may never be found, are victims of the systemic oppression of native women. When the families try to tell the police, their family member is missing, they are often ignored. Families are told that "they didn't want to be found", as they were in a" high risk" population. But there is a large imbalance of native women found in prostitution and also in prisons, all across the country, due to the ongoing oppressions caused by racism. Sharon, has successfully held the Murdered and Misssing March which is held around Valentine's day. She has said that she especially misses her sister at that time of year, as Sandra was the one in the family who bought everyone Valentine's gifts. Our Prime Minister, Stephen Harper, has refused to form a special inquiry into these atrocities, which makes it even more important that this film be shown as often as possible.
The film would also be an especially good resource for schools to help to combat racism and help First nations youth feel proud of their culture. It features Thunder Bay's mayor, who when confronted with someone who makes racist remarks, stops people cold, by asking them if they would like to "change positions" from a white to a native person. People need to learn about the "real' history of our country and be able to start and keep talking about how we can find solutions to combat racism and work out a compatible strategy to ensure everyone has equal rights. As Derosier said in a city press release, about the film project, "Film can be a powerful tool to create social change". I would recommend that it being shown in every school and also at as many other public settings as possible.
Viewing The Walk-a-Mile Film is an awesome way to invite the community to participate in conversations about our shared history, our issues with race relations, our struggles and successes and how we can move forward together. As Derosier said in a press release when the film was first publicly shown, "film can be a powerful tool to create social change".
-Review by Sue